All pictures and descriptions courtesy of Live Auctioneers.
Collectors who enjoy folk art and weathered patinas on copper and cast zinc love to collect antique weather vanes.  Many were produced in New England and New York  by companies such as J. Howard, A.E. Jewell & Co., J.L. Mott Iron Works and J.W. Fiske.  Some rare examples have sold for upwards of one million dollars!  Weather vanes take many shapes as shown below.  They include running horses, deer, sheep, cow, cod fish, whales and even Indian chiefs and Lady Liberty.  They are truly wonderful pieces of Americana!  Check out the antique weather vanes page on Relic Spot.
1. American molded copper ten-point leaping stag weather vane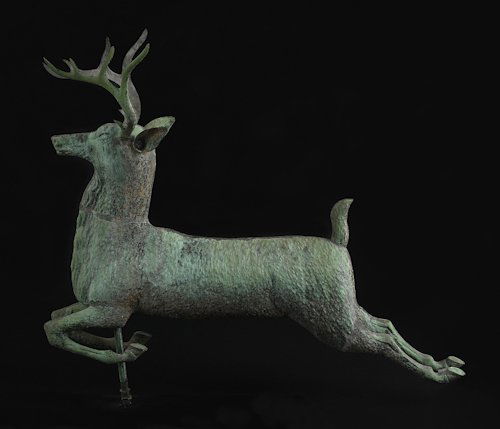 American molded copper ten-point leaping stag weathervane, ca. 1880, with lead-filled antlers for balance and a detailed body, retaining its original patinated surface, 33" h., 37" l. Provenance: Private Massachusetts estate.
Sale Price:  $60,000.
2.  Spectacular, Rare & Important late 19th/early 20th C Seahorse weathervane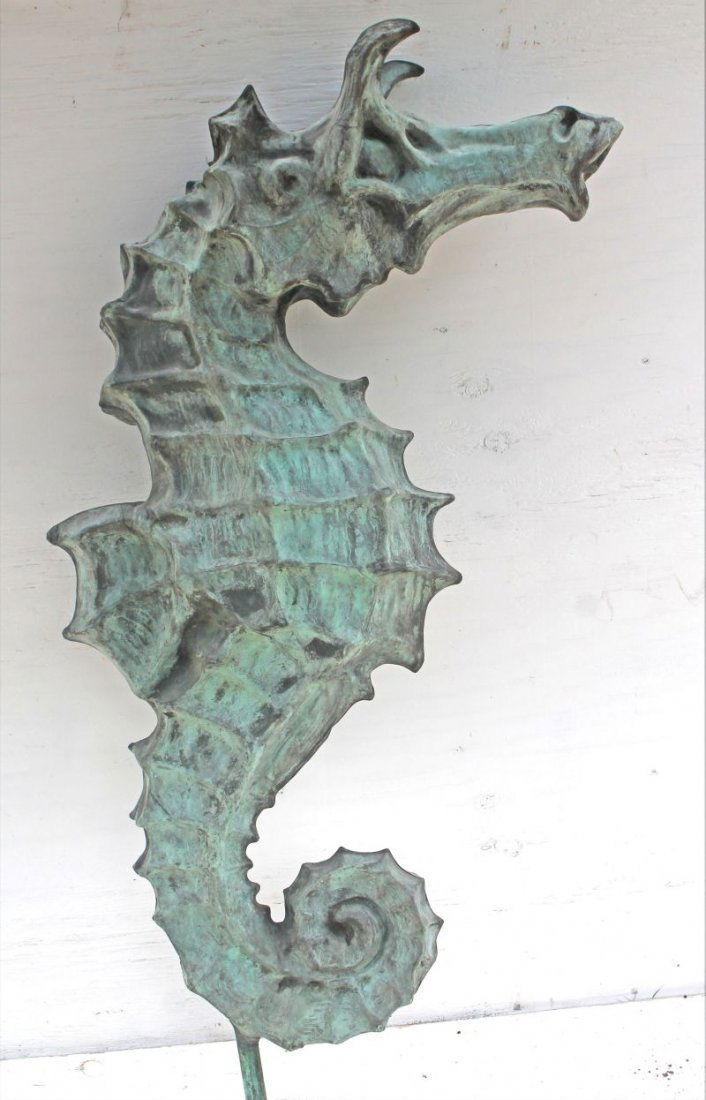 Spectacular, Rare & Important late 19th/early 20thC copper seahorse weathervane w the best detail – Originally from The Gingerbread Castle in NJ – 41″ tall.
Sale Price: $47,500.
3.Rare Monumental Weathervane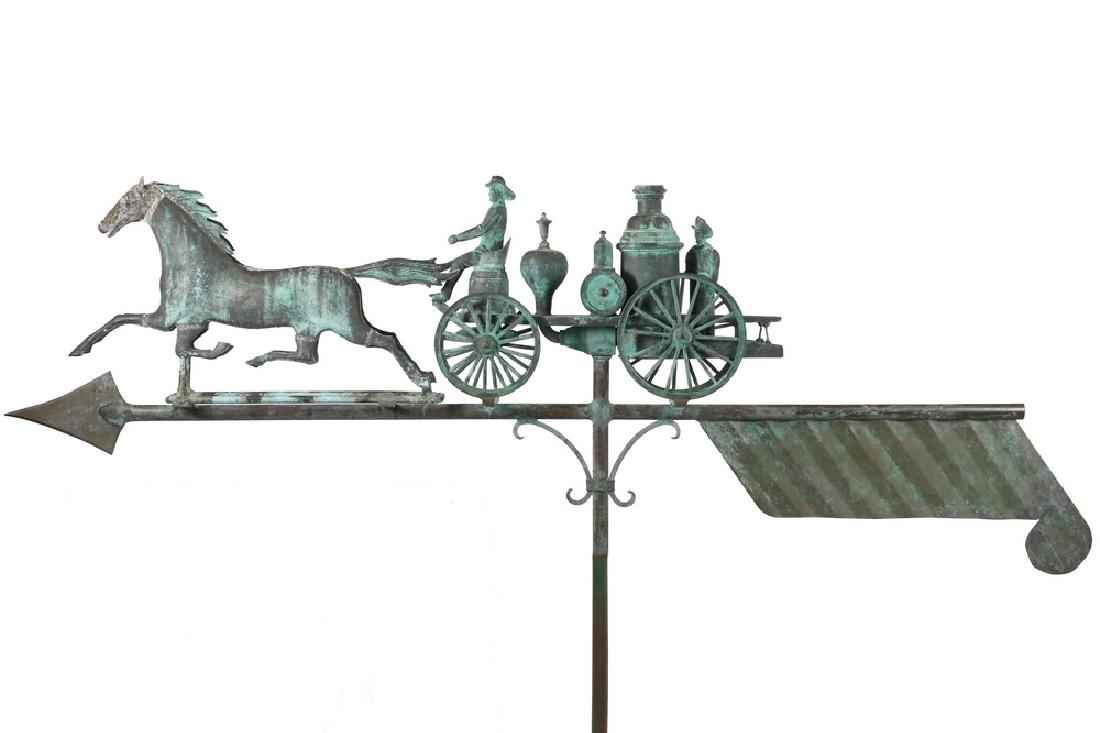 19th c. American Fire Engine Steam Pumper Weathervane, drawn by two horses and having two cast firemen, in bronze, copper and zinc, on a later steel stand. 31″ x 88- 1/2″ (7'4- 1/2″) x 7″, 56″ tall on stand. Fine condition, old surface patina. Possibly as found in Westervelt's Weather Vanes, Catalogue No. 6, A. B. & W. T. Westervelt, published by Brown & Wood, New York, NY. 1883.
PROVENANCE: Formerly in the collection of Edgar M. Bronfman.
Sale Price:  $47,500.
4. Fine Large Goddess Of Liberty Copper Weathervane
Mid 19th century, New England. Probably individually made flattened copper molded weathervane, the flag simulating waves, face with full blown feathers and exaggerated extended arms. This exact model is illustrated in "A Gallery of American Weathervanes and Whirligigs" by Robert Bishop & Patricia Colbentz published Dutton in 1981 on page 49. Old second gilt surface (early 20th century) with good verdigris and patina, very fine, undisturbed condition overall. Offered with a museum stand. Condition: Dimensions: 39-1/2″ x 30-1/2″
Sale Price:  $32,500.
5. Rare JW Fiske Elephant Weathervane
Rare JW Fiske ELEPHANT Weathervane. Circa 1890 Molded copper with an old pleasing weathered regilded surface. H 30″, W 23-1/2″. Illustrated in the JW Fiske 1893 catalogue. Excellent condition. Old pleasing weathered re-gilded surface over verdigris. Original horizontal bar in old black paint. No repairs or replacements noted.
Sale Price:  $32,000
Make sure to check out Live Auctioneers for more great items!